Can you say hodgepodge?? Since I've been on spring break this week I don't really have much to show you as far as a flashback goes this week.
I know some of you have been back (or still) in the routine though, so I hope you'll link up to share!
What you must do is comment on this post. Why? Because then you can see my
CUTE
new bordered comments created by the ever so fabulous Michelle from
3am Teacher
.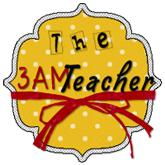 You've seen her adorable clipart and precious buttons all over blogland, right? But, did you know that she also has
blog add-on packages
, like these bordered comments? I didn't either...until I saw Rachel get the bordered comments on her blog,
The Tattooed Teacher
, and then I knew I had to jump on board.
Not only did she cutesify (yes, that's a word!) my comments section, she also made my design have threaded comments (with the reply option) which I was previously told was not possible with my particular template. She's a genius, I tell ya!! :)
She was so easy to work with and super fast! Highly recommend her help! :)
****************************************************************
I spent much of this week bundling up many of our Classroom-Themed Resources at Teacher's Clubhouse into units. Over the years we've had MANY requests for this, but it was always such a daunting task.
Well, we're finally tackling it! Having the themes bundled into units means that you can now get the resources for half the price! We're still working on them, but they'll be ready by the end of the year so that you can get a head start on next year.
If you're not familiar with our themed resources, you can see a complete list of them
here
. It's quite extensive! So, what is your classroom theme? I was Madden's Movie Stars for years and years and absolutely LOVED that theme. Here's a look at some of our "Hollywood Bundles" that are already available on our site and our TpT shop.
Hollywood Classroom Theme Pack #1 (26 resources)
Hollywood Classroom Theme Pack #2 (34 resources)
Hollywood Classroom Theme Pack #3 (33 resources)
Last year, I decided to change my theme to Madden's Mon-STARS
(a monster theme)
and while it was a HUGE undertaking, I've loved every moment of it. Many of my
summer posts
last year were dedicated to preparing my room for this new theme. I'm sticking with it for a few years, but can't wait to have the summer to put a few new ideas into place! ;)
Do you have a classroom theme? Are you keeping it or changing it up next year? I would love to help you get a jump-start on your new theme or spice up your existing theme!
Use the Rafflecopter below to enter - (it'll ask you to leave a comment telling me what your classroom theme will be next year....see I told you I really wanted you to use my new, cute comment section ;) )
I'll announce a winner on Monday and that person will get to choose a
FREE
theme pack from Teacher's Clubhouse!!
a Rafflecopter giveaway