This week, Tania from
My Second Sense
is being showcased! I hope you enjoy learning a little more about Tania and drop by her blog for a visit.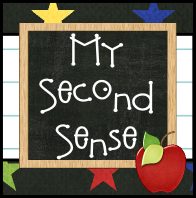 Personal info (state/family/pets/interests):
I was born and raised in Mexico City. I lived in Northern Kentucky for 11 years and have lived in North Carolina since 2004.
I am the proud mommy of a five year old daughter and a ten year old boy.
My entire family lives in Mexico, which I visit once/twice a year.
I love to do crafts, scrapbook; but my ultimate
'interest' is to create things for my classroom.
Grade You Teach:
This is my ninth year teaching second grade. I student taught in first and third grade, but I was lucky enough to get my dream grade.
How long have you taught?:
I have taught eight years so far...and counting :)
What is your favorite subject to teach?
I love to teach Math. Math has logic, steps, and always a correct answer :)

What would we likely see if we popped into your classroom unannounced?
Creating a
classroom full of 'thinkers' and 'independent learners' is my yearly goal. If you visit my classroom, you will be able to see clean, organized, and well defined areas of learning. My
students always enjoy working with a partner or in small groups.
Engaged learners that
reflect,
set and meet their own goals. Hopefully, you could also witness a class that follows procedures and enjoys learning.
What gets you through one of "those" days?
My team! I have been blessed wit amazing coworkers who support my crazy ideas and challenge me to be a better me everyday. We vent, share and take care of each other. A big mac can also save me from going gray :)
What is one "can't live without" teaching resource?
I have compiled many ideas from magazines, websites and blogs. I am not sure I have one thing I am in love with Daily Five and Writer's Workshop. If I had to pick one thing...probably my laptop. I have yet
to take full advantage of my personal iPad.
Give us a glimpse of your teaching style by sharing a brief summary of a favorite classroom
activity/project.

I work really hard to implement my procedures and expectations during the first part of the year. After that I try to create a balanced week where we work hard, have fun and learn to stretch our thinking.
I love doing crafts with them and do holiday projects. I like to get to know them (attend cheer leading competitions, first communions, birthdays...) and their families. I hold them to very high standards, but in exchange we do tons of fun things. I want and expect nothing but the best :)



What is one of your blogging goals for this year?
I started blogging to share what I do in my classroom. I feel it is a way to pay back what I have learned from so many amazing blogs. My goals is to share what I love and help others with what I can.
I like to participate in linky parties and one of these days will be brave enough to publish a unit on TPT
:)
Muchas Gracias for reading about me and My Second Sense (Do you have a second sense?). I hope to get
the chance to meet new Bloggy friends. Would you visit my blog and let me know what you think? Hope to see you there!
Amanda, thank you so much for the opportunity to introduce myself to all your amazing followers.