I started writing this post and then decided to turn it into a linky party!! {I might be addicted} The
Turn the Music Up Linky Party
gave me soooo many new ideas for music that I thought this could be a great way to get new ideas for classroom projects!! I've tried many projects with my classes in the past, both technology projects and more traditional projects. I'm sure you have also, so let's share some of our favorite classroom projects! If you want to join this linky party, just follow these steps: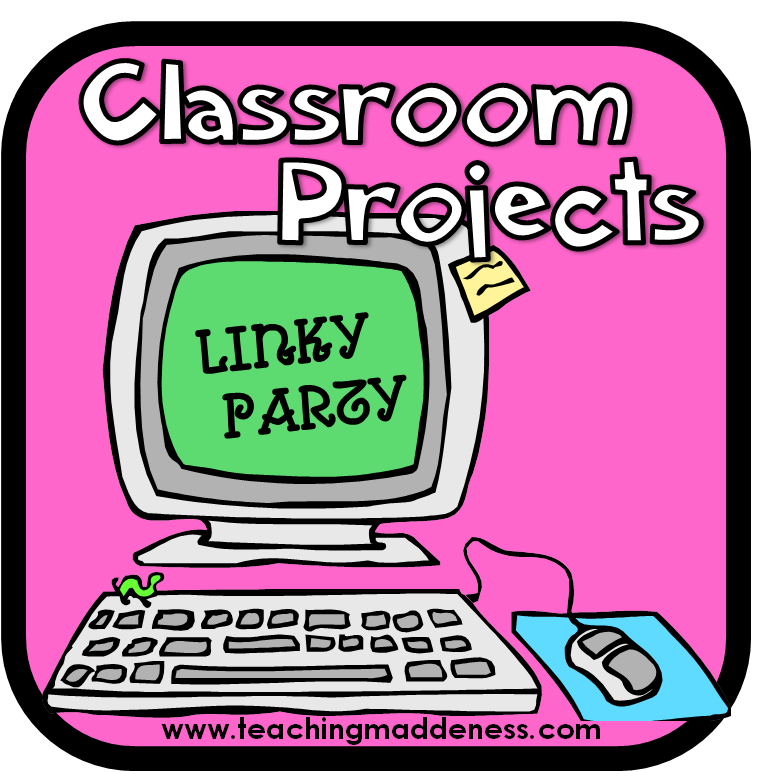 1. Use the button above in
YOUR
post (copy and paste the code below the button to the top of your post). This will link back to the linky party so others can find it and join in!
2. Blog about one of your favorite classroom projects. It can be an online project, one that involves technology, or a more traditional classroom project....your choice!
3. Come back to this post and add your
POST LINK
using the button at the bottom of this post. (Please do not post the link to your main blog page or it will be deleted. The link needs to be directly to your music post so that new visitors to your blog can find it easily!)
Today I'm going to share with you how I plan to use the items in the following two pictures for a class project.
Have you ever participated in a
Pet Pal Project
with your class? A What? Pet Pals are a mix between pen pals and a class mascot. I'm sure you've heard of both of those!
I've used both pen pals and class mascots successfully in my classroom, but many years ago (gosh, probably about 10 years ago!) I started doing a Pet Pal Project with another teacher that I met online (you know through our class website and message boards...yeah, back before blogging!)
What is a Pet Pal Project?
It is a mix between pen pals and a class mascot. Two classes will pair up for the year. Each class needs a class mascot. The classes will trade class mascots for several months, allowing students from the other class to take the mascot home and document his travels. When everyone in the partner class has taken the visiting mascot home and "helped" it write about its adventures, it is sent back home so that each student in its class can take him home for a night and READ about its adventures!
I love this project because it is a mix between reading, writing, AND social studies!
How do I select a class as a partner for a Pet Pal Project?
I think it's best to select a class from another region of the United States (or another country!) This really pulls in the social studies aspect and allows the children to learn about another area of the world. My partner class is from Kansas. It is in the Midwest region, so their weather, landforms, and industry is much different from ours. The students love to find Kansas on a map and they perk up each time we learn a new fact about it throughout the year (tornadoes during our weather study, farming during our regions study, plains during our landforms unit, etc). I'm sure it would be super easy to find a willing class in Bloggyville! :)
What materials do I need for the project?
You will need the following materials for a successful project...
1. A Class Mascot
- This can be any type of stuffed animal. I started out using just a teddy bear. Then I moved on to use
Schmooney
, our city's mascot (and state's reading mascot). But, this year I've decided to use a MONSTER to match our new class theme. In fact, sometimes in the past, I've let the children vote on the mascot (after a persuasive writing project...see below). This year, since I've selected the mascot, I think I'll let them vote on the name for the monster. The more ownership they have in the project, the more excited they become about it!
2. A Bag
- The mascot will be going home with students nightly, so it will need something to travel in. I have used just plain canvas bags from a craft store previously. You can decorate these with markers, paint, or iron on a transfer (available in the set above).
3. A Journal
- Since students will be writing about the mascot's adventures, it will need to arrive with a journal. I've used composition books, spiral notebooks and binders in the past. This is really the teacher's preference. I find that the compositions books usually hold up the best for me.
Those are the only items that you
MUST
have for this project, but if you really want to have some fun with it, keep reading!
Optional Items to Include
4. Book(s) -
I like to send my pet with a book (related to him or our state). I've sent the South Carolina Alphabet book in the past, and since I've kept my pet pal partner class for years, I just asked the teacher to keep it for future years. This year I will be sending
Monster Boogie
to accompany our little monster. I always write a letter to the class in the front of the journal (from the pet) and I am sure to tell them that he LOVES to have the story read aloud to him before bedtime each night. (Sneaky, I know...but just another way to throw some more reading in there!)
5. Camera
- I often include a disposable camera in the bag, also. This is great because students can take their picture with the pet at their home or at other places throughout the city. The only downside to this is that sometimes the camera is lost, or one family will take lots of pictures (not leaving enough for other students). So, I have left this out in the past and opted to take pictures of the students with a digital camera at school. Either way, we print the pictures off and glue their pictures beside their journal writings.
One year, I bypassed the pictures altogether and recorded my students saying goodbye messages to the pet. I made those into a DVD to send along with him.
6. Souvenirs
- We also love to include fun souvenirs from our state!! We always find Kansas on a map and talk about it. One of the first things the students notice is that it is a landlocked state. Since they do not have an ocean nearby, we always decide to send them some things from the South Carolina coast. Each summer, I'm sure to bring back a large bag of sand, plenty of sharks teeth we've found, and shells that I've purchased or found. I create little bags so that each student in our partner class has a "little piece of Myrtle Beach, SC" and can dig through their sand to find a shark's tooth and a shell! I also include a postcard with the different types of sharks' teeth so students can use it to discover what kind of shark their tooth is from. In addition to this, I include other SC postcards with facts about our state, salt water taffy from the coast, a South Carolina license plate, some palmetto (our state tree) items, and usually some peach rings.
Other Tips:
* I require my students to write in the form of a friendly letter in the journal....just another great opportunity to review this skill!
* Sometimes I choose who takes the pet home by going through number order, but usually I let the pet "help" me choose. It sits on a shelf or cabinet in the classroom throughout the day "looking" for someone who has done an exceptionally good job that day. ;)
* I do not send the pet home on Fridays since that person would get the pet for several nights. Instead, the pet stays to guard our classroom over the weekend (often trying to get a glimpse of the Clean Desk Fairy for us!)
* I usually take the pet home first so that I can model my expectations...I provide lots of details and maybe even an illustration.